Promover
el Voto
Boletín del Hernando County Supervisor of Elections
November 2022
---
Message from your Supervisor
With another election in the rear view mirror, we now take time to evaluate our processes and procedures. The 2022 Election cycle was challenging in many ways as so many changes occurred:
We relocated our office from the courthouse to a new location. Read the press release.
The Florida Legislature passed a number of bills that affected the way we conduct elections, including SB 90 and SB 524.
Redistricting, precinct lines moved and precincts changed. 150,000 Voter Information Cards were mailed in May. Read more here.
Resumen de las elecciones generales de 2022
Boletas emitidas durante la Votación Anticipada, por Ubicación
Demografía de los trabajadores electorales, por partido
Voto por correo en las elecciones generales de 2022
General Election Ballots Cast Comparison
---
BallotTrax, an opt-in service for our Vote-by-Mail voters to receive notifications regarding your ballot status. Sign up here.
Enhanced Ballot, an ADA-accessible Vote-by-Mail delivery service. Read the press release.
Clear Ballot, an independent system to audit 100% of ballots cast. Find Hernando audit reports here.
As a year of change winds down, we would like to say thank you to all of our community partners as well as our 300+ Election Workers. Thank you: Hernando County Facilities, Hernando County Utilities, Hernando County Administration, Hernando County Sheriff's Office, Hernando County Library System and the Hernando County Canvassing Board who spent hours upon hours ensuring every vote counted. Last but certainly not least, our Elections staff who answered your calls, processed mail, worked Early Voting sites, packed precinct supplies and so much more! They are truly a dedicated team of professionals and I am proud to serve alongside them.
Mail Ballot Request Expiration
Requests to have ballots mailed have expired. If you would like to renew your request, please call or visit our website. Please only request a ballot to be mailed to you if you intend to vote by mail. This is not a sample ballot.
Become an Election Worker
The Hernando County Supervisor of Elections encourages registered voters to apply to become Election Workers for the three elections in 2024. You can see the requirements and apply online.
We would like to inform you that there will be no elections held in 2023. The next election will be the Presidential Primary in 2024.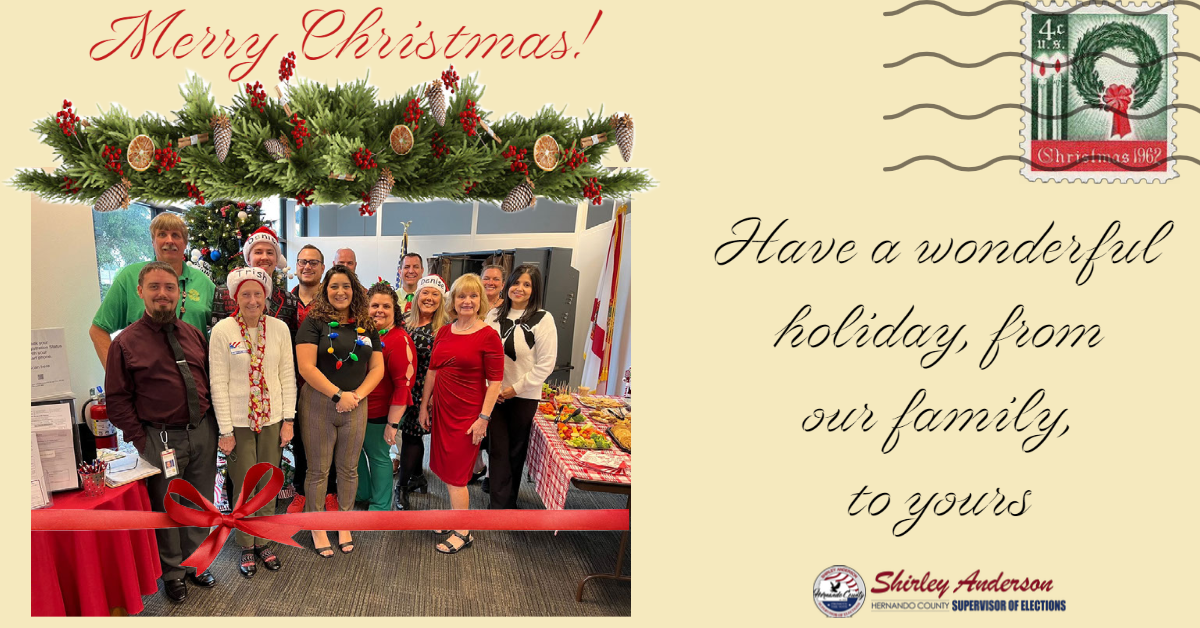 ---